Midleton Very Rare Irish Whiskey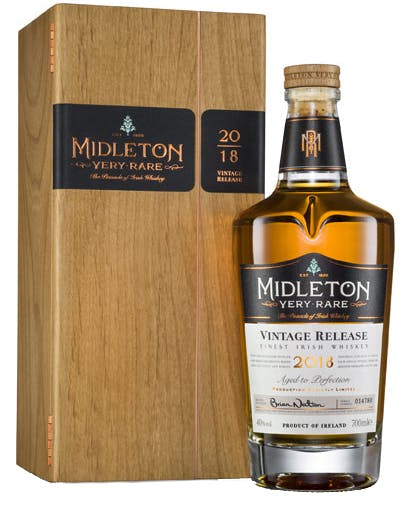 Unavailable
We're sorry, but this product is not currently available.
Just two Master Distillers have had the privilege of preserving the legacy of the world's most sought-after Irish Whiskey. Created in 1984 by Master Distiller Emeritus Barry Crockett, Midleton Very Rare is the ultimate expression of his art and expertise. Once a year, Master Distiller, Brian Nation honors Barry's vision by handpicking the finest and rarest whiskeys available and carefully blends them to create each annual vintage of Midleton Very Rare.Only a select number of casks are deemed of sufficient excellence and rarity to bear the Midleton Very Rare name, making this The Pinnacle of Irish Whiskey.
Nose: Vanilla sweetness with a light floral perfume. Some citrus zest combines with fresh herbs and sweet spices complimented by a touch of black pepper and charred oak.
Taste: Mouth-coating sweetness of vanilla, cinnamon and clove, enriched with a hint of green apple and unripe banana. Peppery pot still spices, along with charred American oak, add complexity.
Finish: Soft sweet spices fade leisurely leaving the final say to the charred oak and barley grains.
This is a vintage item, but we do not track the vintage in inventory. The information shown describes a recent vintage of this item, but may not describe the vintage you will receive. If you require a specific vintage of this item, please contact us to inquire about availability.