Don Julio Tequila Reposado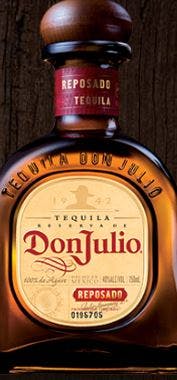 $79.99
Save $20.00 (25%)
$59.99
SKU 14985
750ml
Color: Straw-like color.
Nose: An inviting aroma of mellow lemon citrus notes and spice layers with touches of ripe stone fruit.
Taste: Incredibly soft and elegant hints of dark chocolate, vanilla and light cinnamon.
Finish: Silky, warm finish with an essence of dried fruit, nuts and a touch of caramel apple.
Best Served: Neat.
Wine EnthusiastFeaturing an enticing mix of savory jalapeño and sweet vanilla, this light-gold reposado finishes particularly long, with brown sugar, vanilla and nutmeg, concluding with warming prickles of pleasant chili-pepper heat. Aged eight months.