Gentilini R Robola of Cephalonia 2017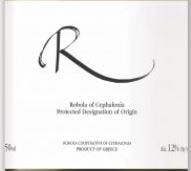 $14.99
Save $3.00 (20%)
$11.99
SKU 15703
750ml
Light color wine, with almost white shade, and nose really cool and fresh, with rejuvenating scents of white flowers, citrus notes, lime zest, tea leaves and tarragon. Medium volume mouthfeel, with impressive acidity and long, highly classy aftertaste.
"R" is born by grapes that grow in the vineyards of Mt. Ainos and belong to the protected viticultural area of Roboia. It carries all the traits of the extraordinary terroir of the island of Cephalonia which is an amalgamation of the rocky character of Mt. Ainos and the freshness of the Ionian Sea.
Wine AdvocateThe 2017 Robola is unoaked and comes in at 13% alcohol. As much fun as the Notes White is, this is a different style and class. For one thing, the aromatics are a lot more neutral-none of that green, grassy and vegetal. More importantly, this just has more concentration and structure. It has a tightly wound demeanor, finishing with grip and tension. The Gentilini Robolas are always graceful, always elegant, yet they never lack for substance and power. Somehow, this manages to fill the mouth. Then the acidity slams the fruit into the palate. It may seem lighter-styled-and it is, in a way-but it lacks for nothing in the final analysis. Under screwcap these days, they may age better than we think and are accustomed to, but don't hesitate to drink it young so you can revel in its energy. We'll see how it ages, but it is worth leaning up just now. There were 27,000 bottles produced.