Papa's Pilar Dark 24 Rum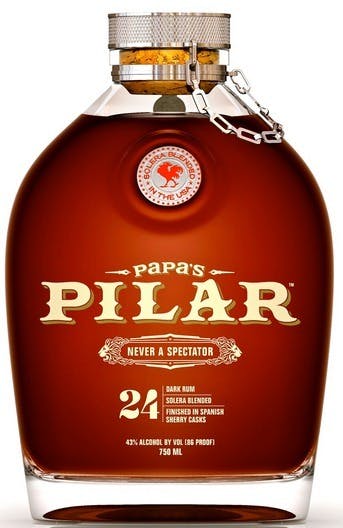 Rum was once a noble spirit. It was served aboard warships, rationed to visionary explorers, and used to sustain the Founding Fathers as they plotted a revolution. Rum represents a strong spirit of American rebellion, and Papa's Pilar Dark is hell-bent on returning rum to those gutsy roots. Inspired by Hemingway's unbound land travels, this smooth, complex blend is bold, well-traveled, and deeply nuanced. Just like Papa himself. Our dark rum exhibits a deep and complex drinking experience. Nose: Complex notes of vanilla, cinnamon, dark Italian roast coffee and honey, with hints of sherry and port. Taste: Intricately flavorful: sweet mixed with earthy, vegetal tones. Mouth-coating with hints of spice, bourbon, almonds and apricot. Finish: Robust, exotic and full-bodied with a long, deep, velvety finish. Serve: Versatile, but mostly served neat.
Wine EnthusiastDeveloped in conjunction with Ernest Hemingway's estate, this deep, dark rum blended in the Solera style and finished in Spanish Sherry casks will satisfy tipplers with a sweet tooth. It reads almost like a spiced rum-soft and sweet, with notes of brown sugar, toffee, sasparilla and allspice, though it also has some dry aspects on the finish, showing baking spices, leather and dark chocolate.