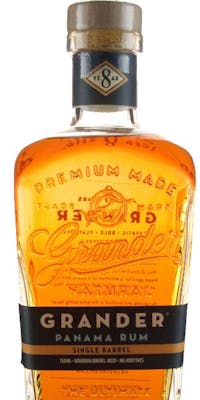 SKU: 53369
Grander Rum Single Barrel Rum Wine and Spirit World's Handpicked
---
$69.99
Save $30.00 (42%)
$39.99
---
Each single barrel is a unique expression, delivering a distinctively rich aroma and full-bodied taste profile.
This rare and limited offering is bottled from one individual barrel, representing something rare, as there is no other like it. Having aged for a minimum of 8 years and bottled at cask strength, it exemplifies the full spirit of Grander.
"Wine and Spirit World's Handpicked"
DISTILLERY: Las Cabras Distillery, Panama
INGREDIENTS: Panamanian sugar cane molasses Proprietary cultivated yeast Panamanian water
DISTILLATION: Multi-column Distillation
AGING: Minimum of 8 years
BARRELS: Ex-bourbon white oak
ABV: Cask strength at 54.5 % ABV | 109 PROOF
FILTRATION: None, straight from the barrel
ADDITIVES: No flavoring or sugar added
COLOR: Natural, from the barrel
Ultimate Spirits Challenge