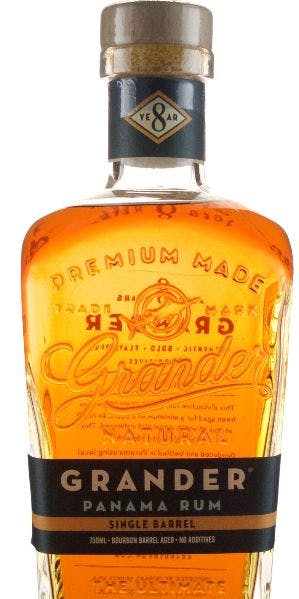 SKU: 53369
Grander Rum Single Barrel Rum Wine and Spirit World's Handpicked
---
$69.99
Save $30.00 (42%)
$39.99
---
Each single barrel is a unique expression, delivering a distinctively rich aroma and full-bodied taste profile.
This rare and limited offering is bottled from one individual barrel, representing something rare, as there is no other like it. Having aged for a minimum of 8 years and bottled at cask strength, it exemplifies the full spirit of Grander.
"Wine and Spirit World's Handpicked"
DISTILLERY: Las Cabras Distillery, Panama
INGREDIENTS: Panamanian sugar cane molasses Proprietary cultivated yeast Panamanian water
DISTILLATION: Multi-column Distillation
AGING: Minimum of 8 years
BARRELS: Ex-bourbon white oak
ABV: Cask strength at 54.5 % ABV | 109 PROOF
FILTRATION: None, straight from the barrel
ADDITIVES: No flavoring or sugar added
COLOR: Natural, from the barrel
Ultimate Spirits Challenge
A strong aroma of molasses provides the anchor for the complex nose, which features aromas of peaches and brown sugar as well. The sweetness translates to the palate where the influence from the bourbon barrel is apparent. Sweet and spic, this is a complex rum.