Château-La-Mission-Haut-Brion Pessac Léognan 2000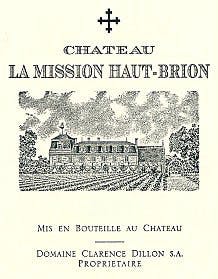 $799.99
Save $200.00 (25%)
$599.99
SKU 53697
750ml
Here is a superb color both dense and deep. The light divulges with difficulty a deep ruby with its myriad of sparkles. The nose is fantastic and encompasses the assortment of all the fruits at the peak of their maturity. The freshness of the fruit remains present while the softness of its ripeness fills the space coating the palate. Then one finds the developing complexity of the subtle, abundant and irrevocably soft tannin. The aromatic complexity of the 'terroir' comes into play with the fruit. This succession of fullness, of concentration, and of maturity evolves into an infinity thus offering a palate with a length and finale that is matchless. This is a collector's bottle.
Wine AdvocateA superstar of this great vintage, the 2000 La Mission Haut-Brion is as profound as the 1989, 1982, and 1975. It is more structured and tannic than the 1989, more civilized and refined, but not as thick as the 1982, and sweeter as well as purer than the 1975. The 2000 is neither flamboyant nor accessible, but what upside potential it possesses! In time, one might have to return to the prodigious duo of 1959 and 1961 to find a La Mission with this much potential. While still tight from bottling, its inky purple color is accompanied by extravagantly sweet aromas of blackberries, blueberries, toast, scorched earth, coffee, asphalt, graphite, and smoke. Super-intense and unctuously-textured, with a sumptuous mid-palate and finish, this is an explosively rich, layered effort that possesses everything I could ever want from a terroir that has given me as much hedonistic and intellectual pleasure as any other wine in the world. It is an amazing achievement for administrator Jean-Bernard Delmas, his son, Jean-Phillipe, and the entire winemaking team. The phenomenal aftertaste goes on for over a minute. Anticipated maturity: 2011-2045.
Wine EnthusiastSometimes it seems as if La Mission is as good as Haut-Brion - that was certainly the case in 2001. But in 2000, La Mission fitted more comfortably into its usual good neighbor slot. That is not to suggest it is not a great wine - the score indicates that. At the moment, it is closed, solid and chunky, but all the right hints are there, and it will develop slowly and in a sustained way over many years.
Wine SpectatorLovely aromas of dried lavender, crushed berries and minerals. Full-bodied, with firm, yet polished tannins and a medium finish of tobacco, berry and dark chocolate. A balanced and very pretty young red. Not quite as exciting as in barrel, but clearly outstanding. Best after 2010.