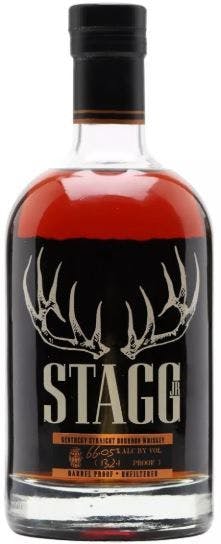 SKU: 53772
George T. Stagg Stagg Jr. Kentucky Straight Bourbon Whiskey Batch #13 128.4 Proof 8 year old
---
Unavailable
We're sorry, but this product is not currently available.
---
George T. Stagg built the most dominant American distillery of the 19th century, during a time known as the Gilded Age of Bourbon. Uncut and unfiltered, this robust bourbon whiskey ages for nearly a decade and boasts the bold character that is reminiscent of the man himself.
Buffalo Trace released their first Stagg Jr. in August of 2013 since then they have produced about two batches every year since. Each batch of Stagg is blended from bourbons aged approximately 8 or 9 years, and released at high and unique barrel proof. Proof numbers are used to identify specific batches. Kentucky Bourbon is produced with the distiller's signature high rye mash bill, aged in charred white oak barrels and bottled at barrel strength. Rich, sweet, chocolate, and brown sugar flavors mingle in perfect balance with the bold rye spiciness. The boundless finish lingers with hints of cherries, cloves, and smokiness.
Uncut and unfiltered, the robust whiskey boasts the bold character of the namesake man himself. 2019 Gold Medal - Whiskies of the World