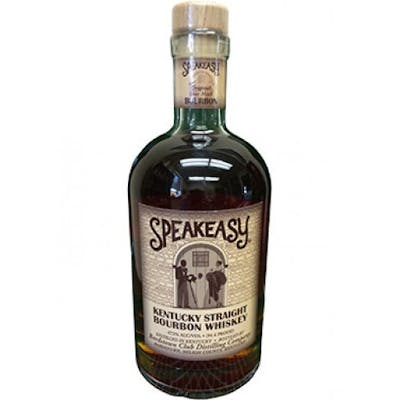 SKU: 54662
Speakeasy Kentucky Straight Bourbon
---
Unavailable
We're sorry, but this product is not currently available.
---
For the Willett family, distilling craft whiskey is a family tradition. During Reconstruction, John David Willett — the family patriarch — began distilling whiskey at the Moore, Willett & Frenke Distillery, which was situated just outside of Louisville, Kentucky. In 1898, his son, A. Lambert Willett — who was 15 years old at the time — began following in his father's footsteps. Three decades later, Lambert, together with his son, Thompson purchased a farm on the outskirts of Bardstown, Kentucky, and began construction of the Willett Distilling Company. While the Willett Distilling Company eventually changed its name to Kentucky Bourbon Distillers, the family tradition lives on — Even Kulsveen, the current owner of KBD, is Thompson Willett's son-in-law.
In keeping with family tradition, Speakeasy Kentucky Straight Bourbon Whiskey is an authentic Kentucky straight bourbon. Aged for a minimum of four years, the bourbon has a sweet caramel aroma, with touches of vanilla, coffee, and butterscotch. The aroma gives way to notes of apples, pears, and citrus on the palate, which are complemented by undertones of caramel, cinnamon, and spices. The finish is long and elegant, with a warming touch.
With no added coloring or flavoring, Speakeasy is the quintessential American spirit.