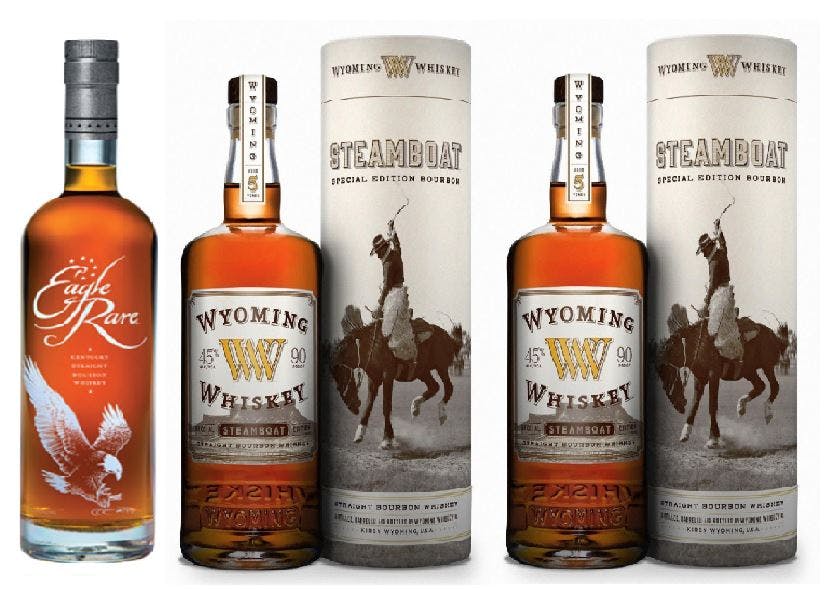 SKU: 54802
Eagle Rare Bourbon Combo 3-Pack
---
Unavailable
We're sorry, but this product is not currently available.
---
This limited 3 Pack Combo includes
1 Bottle - 750 ML Eagle Rare 10 Year Kentucky Straight Bourbon
2 Bottles - 750 ML Wyoming Whiskey Steamboat Bourbon
Steamboat Special Limited-Edition Straight Bourbon Whiskey is produced by Wyoming Whiskey, located in Kirby, Wyoming. A casual observer might ponder how an old boating concept was chosen as the namesake for this whiskey, given Wyoming is best known for big sky, not big water. "Steamboat" was the name of an "unrideable" horse at the Cheyenne Frontier Days in 1909, and also the symbolic icon seen on the Wyoming license plate.
This whiskey has been described as lighter and sweeter when compared with the flagship Wyoming Whiskey Small Batch Bourbon, and it's bottled at 90 proof. The expression creates a rather ironic statement, contrasting the rough and tumble bronco with the easy-drinking lighter bourbon whiskey.