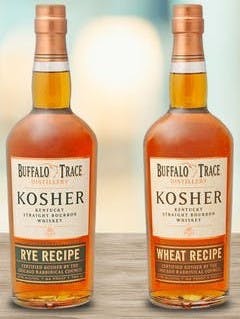 SKU: 54857
Buffalo Trace Kosher Combo
---
$219.99
Save $30.00 (13%)
$189.99
---
This 2 Pack Bourbon Combo includes:
1 Bottle - 750ml Buffalo Trace Distillery Kosher Wheat Recipe Kentucky Straight Bourbon
1 Bottle - 750ml Buffalo Trace Distillery Kosher Rye Recipe Kentucky Straight Bourbon
Buffalo Trace Distillery Releases 7 Year Old Kosher Kentucky Straight Bourbon High Rye and High Wheat.

What it believes to be the first authentic Kosher Whiskey, under the guidance of the Chicago Rabbinical Council (cRc-Kosher). The new whiskey is available in three styles, Kosher Rye Recipe Bourbon; Kosher Wheat Recipe Bourbon; and Kosher Straight Rye Whiskey.
Kosher law mandates that whiskey should not be owned or consumed by Jews during Passover. Buffalo Trace Distillery is owned by Sazerac. It is a privately owned family company led by Chairman William "Bill" Goldring who is Jewish. In 2010 Buffalo Trace began working with cRc for guidance on how to make a kosher whiskey. In 2012 in order to follow the kosher rules the cRc oversaw the sale of new American Oak Kosher barrels in a contract of sale to a non-Jewish executive, Buffalo Trace Distillery President Mark Brown. Eight years ago these special barrels were filled with three different whiskey mash bills and put away in specially marked "Kosher whiskey" barrels to age.