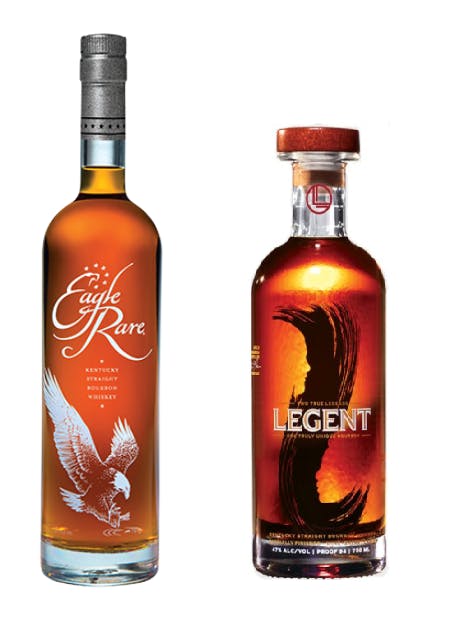 SKU: 55001
Eagle Rare Bourbon Combo 2-Pack
---
$179.99
Save $40.00 (22%)
$139.99
---
This 2 Pack Bourbon Combo includes:
1 Bottle - 750ml Eagle Rare Single Barrel Kentucky Straight Bourbon Whiskey 10 year old
1 Bottle - 750ml Legent Kentucky Straight Bourbon Whiskey
Eagle Rare Kentucky Straight Bourbon Whiskey is masterfully crafted and carefully aged for no less than ten years. The rareness of this great breed of bourbon is evident in its complex aroma, as well as the smooth and lingering taste. Eagle Rare is a bourbon that lives up to its name with its lofty, distinctive taste experience. Complex aromas of toffee, hints of orange peel, herbs, honey, leather and oak. Taste is bold, dry, oaky flavors with notes of candied almonds and very rich cocoa. Dry and lingering finish.
Legent Kentucky Straight Bourbon Whiskey is a collaboration between two whiskey legends, Fred Noe of Jim Beam and Shinji Fukuyo of Suntory. Legent is a Kentucky straight bourbon whiskey finished in wine and sherry casks. Legent transcends the broader whiskey category. It's a perfectly balanced and rounded bourbon that's also complex and layered. On your palate, it starts like a bourbon - rich, warm and oaky. Then, like a Japanese whisky, it features complex layers and a. bright, smooth, unexpectedly long finish.