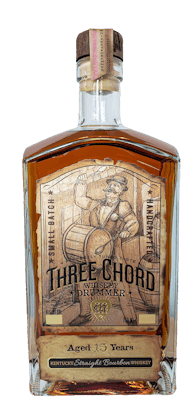 SKU: 55300
Three Chord Drummer 15 year old
---
$299.99
Save $50.00 (17%)
$249.99
---
Three Chord states that they are first and foremost blenders. However, they recently came across a small lot of barrels and felt they should enter the bourbon community in their original form. Their Whiskey Drummer 15 Year Straight Bourbon Whiskey is non-chill filtered and bottled at barrel proof (117.9 Proof). A total of 2,500 bottles were produced from the small lot of barrels. These bottles will be released in two small batches consisting of 10 barrels each.
MASH BILL ~ 78.5 Corn, 12.5 Rye, 9 barley
APPEARANCE ~ DARK COPPER
AROMA ~ The nose jumps out of the glass with a campfire, baking spice, and dark chocolate.
TASTE ~ This bourbon is heavy on the pallet but surprisingly well balanced, considering its age. There is oak, but it's not overpowering at all. Instead, notes of walnut, leather, smoke, vanilla, and allspice linger for an exceptionally long finish.
FINISH ~ LONG-LASTING NOTES OF BROWN SUGAR, CINNAMON, AND BLACK CHERRY