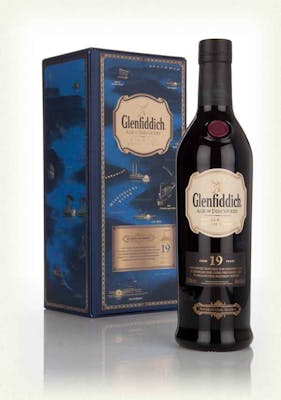 SKU: 55335
Glenfiddich Age of Discovery Bourbon Cask Finish Single Malt Scotch Whisky 19 year old
---
$189.99
Save $30.00 (15%)
$159.99
---
The Great American Rivers once transported fine oak casks filled with American bourbon towards New Orleans. Bourbon casks could only be used once, their aromas and flavours released quickly, without being exhausted by long maturation. Excellent for ageing single malt Scotch. Our second release in the Age of Discovery collection and a first for us, Bourbon Cask Reserve is inspired by that history. It is our only expression exclusively matured in American bourbon casks, for 19 years. Creating a refined balance of spicy sweetness and rich dried fruit flavours.
For 20 years William Grant nurtured a dream to make the 'best dram in the valley'. With the help of his family, he finally achieved that vision. In the summer of 1886, with his seven sons and two daughters by his side, William set out to fulfil a lifelong ambition. Together they began building his Distillery by hand, stone by stone. After a single year of work, it was ready and William named it Glenfiddich, Gaelic for Valley of the Deer. William's passion, determination and pioneering spirit continue to guide us today. Glenfiddich is one of the few single malt distilleries to remain entirely family-owned and is now the World's Most Awarded Single Malt* Scotch Whisky, a true reflection of our founder's innovative nature, passed down through the generations.

Nose: Warm, crunchy toffee and deep citrus notes. Marmalade on toast with fine orange liqueur balanced by dry, almost smoky oak tannin.

Taste: Intriguing layers of light tannin, underpinned by rich notes of vanilla pod, fine leather and Havana tobacco. Develops into a sweet, velvety mouth-feel with spicy hints of cardamom and nutmeg.

Finish: Warm, delightful long finish.
Overall: A great follow-up to the Madeira cask, equally complex and delicious without replicating what has gone before - top-notch!
International Spirits Challenge (ISC): GOLD MEDAL 2013