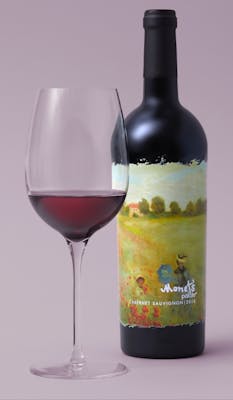 SKU: 55338
Monet's Palate Cabernet Sauvignon 2018
---
$29.99
Save $10.00 (33%)
$19.99
---
Terroir: Situated on ancient terraces called 'Costières' - dating back to the Pliocene period - overlooking the Etang de Thau lagoon and the Mediterranean sea. These coastal hills' geological structure is limestone, red marl, clay, sand, and stone. Benefits from a temperate Mediterranean climate and the Thau lagoon's microclimate. Nights are cooler than further inland.
Vineyard: This vintage comes from old vines and carefully selected plots. Monitoring of fruit development. Grapes harvested at night at full maturity between 13,5° and 14,5°.
Vinification: Produced following traditional vinification process: grapes are de-stemmed followed by a lengthy maceration of 20 days. Temperature-controlled fermentation at between 20° and 23°C (68F-73F). Regular racking off and pumping over for optimal color, tannin, and flavor extraction. Aged in oak casks and stainless-steel tanks for 12 months.
Color: Beautifully deep and concentrated ruby-red color with purplish highlights.
Nose: The nose conjures up black fruit notes (wild blackberry jam), spices (green and black pepper).
Mouth: The tannins are very present with richly aromatic flavors of black fruit in syrup, green, and black pepper.
Aging potential: 5 years
Best served at 16°C (61F)
Food and wine-pairing suggestions: A powerful wine that is best served with grilled or roasted red meat or with typical dished from our region : roasted mutton or lamb, cassoulet from the Toulouse region, white beans stew with Montbéliard sausages, calf liver, and strong-flavored cheeses.