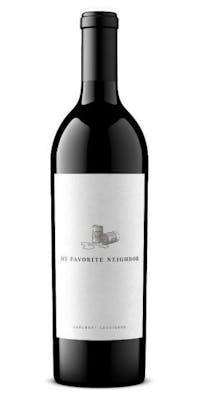 SKU: 55554
My Favorite Neighbor Cabernet Sauvignon 2019
---
$64.99
Save $15.00 (23%)
$49.99
---
Wine Advocate 96 Points "Blended with a bit of Syrah and Petit Verdot, the 2019 Cabernet Sauvignon has a deep ruby-purple color and an alluring fragrance of cassis, violet, aniseed, bitter chocolate and coffee beans. It's notable this vintage for Goldilocks ripeness and seamless lift, offering a chocolate-like texture and very long finish." 77% Cabernet Sauvignon, 11% Petit Verdot, 8% Petite Sirah, 3% Syrah, 1% Malbec
The 2019 My Favorite Neighbor features a complex nose of red cherry, current and raspberry along with wild herbs, violets, and just a hint of toasted marshmallow. On the palate, generous flavors of black cherry, ripe plum, and fig compote is joined by notes of medium roast coffee and creme brulee. The extremely long and mineral finish is characterized by a hefty structure and luxurious, silky tannins.
For wine drinkers seeking an elevated experience, My Favorite Neighbor Cabernet Sauvignon delivers an uber-high-end wine without cellar tricks or the barriers of price and pretension that typically accompany cult-Cabernets from Napa five times the price. The unique growing conditions of Paso Robles, and respectful farming methods, result in ideal color and acidity, creating an unpretentious world-class wine worthy of sharing with all your favorite people.
After deciding to leave the music industry, Eric and Lisa Jensen purchased 100 acres of the property in 2001 with the intent of growing the best fruit for some of the best wineries in the area. After making wine with Justin Smith (of Saxum) for five years and Stephan Asseo (of L'Aventure Wines) for two years the Jensens decided it was time to create their own expression with Booker Vineyard.
My Favorite Neighbor is an honest wine. An obsessive wine. It's a set of people and circumstances that can't be replicated. It's a shared vision, distinctly defined. Like all good wines, it starts in the vineyard. Rich clay soil that is strikingly similar to those of Napa and Bordeaux stretches around us in the Westside Hills of Paso Robles. A beacon to top talent, it has attracted a group of farmers and viticulturists whose meticulousness and knowledge is unmatched. The type of people you want on your team. We hand selected the best vineyard sites, the ones whose potential couldn't be ignored, and work closely with the growers who own them. Through these collaborations each one, as well as their crews, has become My Favorite Neighbor. These are people who share not only our goal of making world class Cabernet, but the intensity with which we feel it, and take extreme pride in growing the grapes that make it possible. They work hard without burning out, driven by the integrity of their purpose rather than fortune or fame. They simply want to be the greatest at what they do. Each set of calloused hands belongs to somebody who knows every vine and feels the vineyard's soul. This is a group whose dedication far surpasses what is normal. Farming at this level, with old school values and cutting edge technology, is how we are able to make a wine that stands up to the most notable cult Cabernets in the world. There are no concentrates, short cuts or compromises, ever. My Favorite Neighbor was inspired by doing what's right. We're grateful to be on the Westside of Paso where the soil, team and vision all converge to make this project a reality. Welcome to the neighborhood.
The 2019 Cabernet Sauvignon is more elegant and focused, with medium to full-bodied aromas and flavors of cassis, redcurrants, green tobacco, and cedary spice. I love its texture, it has ripe, polished tannins, plenty of sweet fruit, and a great, great finish, all while staying in a relatively compact, and again, elegant package. As I've written in the past, it would cost three to four times the price from Napa. It's worth noting the change in appellation from Paso Robles to San Luis Obispo County, which probably allows for a wider range of fruit.
This newer brand for Eric Jensen of Booker fame offers a high-class taste of the Central Coast for a somewhat affordable price. It's dark in the glass, with heavy aromas of baked blackberry, cocoa and violet, the ample fruit balanced by woody, herbal spices. The structure is firm and the density is impressive, with concentrated dark-cherry, berry, caramel and nutmeg flavors.