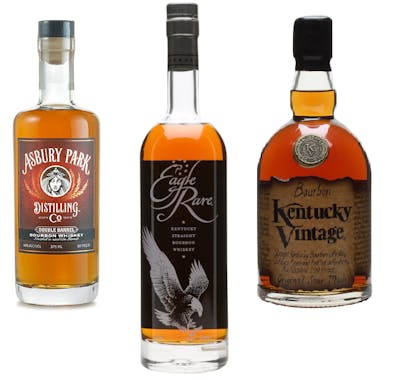 SKU: 56139
Eagle Rare 10 Years Bourbon Combo 3-Pack
---
Unavailable
We're sorry, but this product is not currently available.
---
This Limited 3-Pack Bourbon Combo includes.
1 Bottle - 750 ml Eagle Rare 10 Year Kentucky Straight Bourbon
1 Bottle - 750 ml Kentucky Vintage Kentucky Straight Bourbon
1 Bottle - 750 ml Asbury Park Double Barrel Bourbon
Eagle Rare 10 Year Kentucky Straight Bourbon: With several awards from the San Francisco World Spirits Competition, Eagle Rare 10 Year isn't your average bourbon. Produced since 1975 in Frankfort, Kentucky, this bourbon is one of the true jewels in the American bourbon scene. At 45 percent ABV, it's smoother than some of the alternatives to boot.
Masterfully crafted and aged in oak barrels for no less than 10 years, Eagle Rare boasts a complex array of flavors, offering a distinct taste experience. As soon as you pour a glass, you're enveloped with aromas of toffee, honey, leather, oak, herbs, and orange peel. Take a sip and you'll get that oaky flavor complete with cocoa and almonds. It sounds like delicious breakfast cereal, but it's better sipped in the evening with friends after a long day at the office.
Kentucky Vintage Kentucky Straight Bourbon: Kentucky Vintage, Straight Kentucky Bourbon Whiskey is Distilled, Aged, and Bottled in Kentucky at 45% alc./vol. (90 proof). Kentucky Vintage is a Handcrafted Original Sour Mash Bourbon. From a select few barrels, Kentucky's most skilled master distillers carefully hand-pick the very few Barrels that meet their criteria for Small Batch Bourbon. Like fine Cognac and great Chateau's, a limited few barrels become destined for greatness. This Bourbon has been allowed to age-long beyond that of any ordinary Bourbon, giving it taste and flavor characteristics not found among other bourbons.
Asbury Park Double Barrel Bourbon: Unfiltered straight bourbon whiskey matured a second time in our oak-finished gin barrels. Light amber with an aroma of oak, charcoal, caramel, vanilla, spices, sweetness, port, and sherry. The smooth taste of oak, caramel, vanilla, a rum-like sweetness, and alcohol warmth. A medium body. A long finish with spices and alcohol warmth. SILVER MEDAL 2019 SAN FRANCISCO WORLD SPIRITS COMPETITION