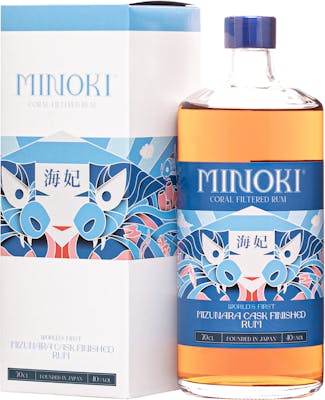 SKU: 57582
Minoki Rum Japanese Mizunara Cask Finished Coral Filtered Rum
---
---
Japanese Rum Minoki was created with the background of rich Japanese legends. Named after Minoki - the princess of the ocean, who is also in the design of bottle with the dragon and Mount Fuji as the symbol of Japan.
Minoki Mizunara Cask Finished Rum was blended from the finest Japanese and Pacific rums, which were finally matured in Japanese Mizunara oak barrels before it was filtered through washed ashore and bleached Japanese corals to create a perfectly smooth blend with hints of Japanese tropical fruits on the nose and spiced-vanilla in the finish.
Color: deep amber, almost opaque
Aroma: vanilla, oak, Japanese tropical fruit
Taste: vanilla, oak, red fruits, tannins, ginger
Finish: Long, vanilla-oak with a hint of spicy ginger
Are you 21 years old, or older?