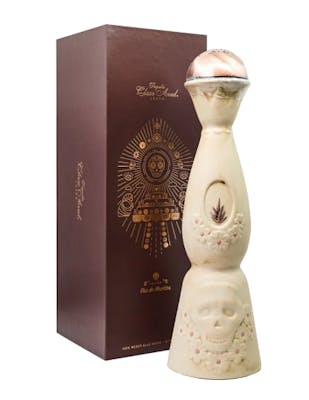 SKU: 57613
Clase Azul Dia Los Muertos Limited Edition Joven Tequila 2020
---
$6,499.99
Save $1,505.00 (23%)
$4,994.99
---
This year's specially blended Joven combines the very best of Clase Azul Plata, Reposado, and Clase Azul Ultra-aged Tequila for a complex and sophisticated sipping experience. Salud!​

An exquisite work of art, this year's Día de Muertos edition is painted in a subtle bone color to commemorate the connection with the spiritual world. Acknowledging that death is a natural step we all must take in the cycle of life; the bottle is adorned with skulls to mark the transition from mortal to the mystical.
Marigold flowers—a staple in all Día de Muertos celebrations-- are thought to guide the souls of the deceased on their journey back to the living. For this reason, it is customary to adorn "ofrendas" and homes with marigolds on the 2nd of November.​​
Nose: Oak, salted caramel, vanilla, white pepper, raisins, cloves, with a faintly nutty aroma​
Palate: Vanilla, Oak, Nutty Toffee with Warm hints of Crystallized Ginger​​
Body: Silky, rich, and full​
Color: Golden
Distillery Information: Productos Finos de Agave at Nom 1416, situated in the Jesus Maria region of Arandas in Los Altos Highlands region of Mexico. Clase Azul is a premium 100% authentic tequila crafted in a small town named Santa Maria Canchesdá.
Are you 21 years old, or older?