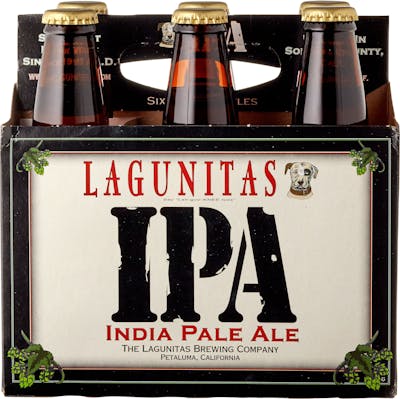 SKU: 50591
Lagunitas IPA
---
---
Experience a true craft beer classic with Lagunitas IPA 6 Pack 12 fl oz. The Lagunitas Brewery, located in Petaluma, CA, helped create one of the most iconic flavors in craft brewing with this signature beer. By blending choice hops, the NorCal brewery created one of the first West Coast-style IPAs, with a crisp, refreshing taste and signature bite that put the brewery on the map back in 1993. The rich flavor and 6.2 percent ABV pair deliciously with everything from comfort foods to gourmet sandwiches and salads.
Thanks for choosing to spend the next few minutes with this special homicidally hoppy ale. Savor the moment as the raging hop character engages the Imperial Qualities of the Malt Foundation in mortal combat on the battlefield of your palate! This is our unique version of an ancient style. A style as old as the ocean trade routes of the last centuries of Great Ships. Not as old as the equator they had to cross twice en route, nor as old as the 10,000 miles or so of Di-Hydrogen Oxide and Sodium upon which they sailed, but older than the Circulithium-4 Lentoid that binds the Lupulin Quartnate onto your taste buds. Weird. Think about it. Now stop. OK, go again. Now stop. Think again. And stop. But we digress. Made with 43 different hops and 65 various malts, this redolent ale will likely float your boat, whatever planet you're on.
Are you 21 years old, or older?