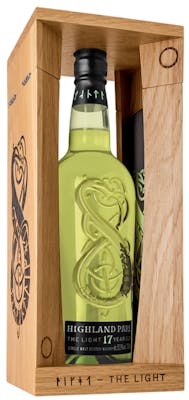 SKU: 53086
Highland Park The Light 17 year old
---
$399.99
Save $100.00 (25%)
$299.99
---
Light and dark are concepts that exist in opposition, yet together create a perfect balance. One cannot exist without the other; as one appears, the other disappears; together they create something greater than themselves - in nature, a perfect, continuous cycle.
In THE LIGHT- a special release of only 28,000 bottles - we celebrate spring and summer in Orkney; a time to emerge from our winter's hibernation renewed and refreshed with a spring in our step, ready to embrace the warm bright days of summer.
Presented in a beautifully embossed green glass bottle, the serpent dragon design takes its inspiration from the great Norse sagas and embraces both the high sun of the summer solstice and the low sun of the winter solstice - the polar opposites of our island seasons - while the runic writing reflects the ancient carvings of our Viking ancestors which can still be seen today, here in Orkney. Natural Cask-Driven Color (No Additives): Light golden (average color tint 7.0)
Flavors: Caramelized pear, Nutmeg, Vanilla, Peat, Cedarwood, Oak, Light smoke.
"Names then gave they to noon and twilight, morning they named, and the waning moon, night and evening, the years to number."...Voluspa, The Poetic Edda, Verse 6
Are you 21 years old, or older?
-->