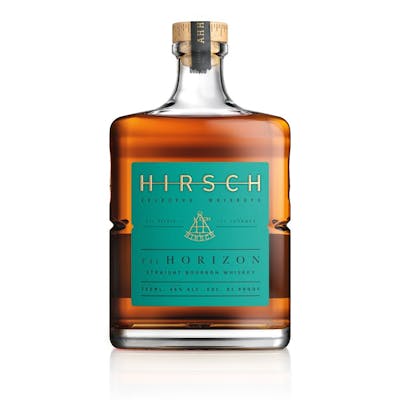 SKU: 55409
A H Hirsch The Horizon Straight Bourbon
---
---
Hirsch's newest offering, THE HORIZON, combines two straight bourbons distilled in Lawrenceburg, Indiana, and is intended to invite whiskey enthusiasts to navigate the landscape of bourbon. Each bottle of THE HORIZON, which is 92 proof, provides the exact batch specifications on the rear label.
The inaugural batch, AHH0320, is made up of two components: 94% of the blend is distilled from a traditional mash bill of 75% corn, 21% rye, 4% malted barley aged 5 years and 4 months; the remaining 6% is distilled from a high-rye mash aged 6 years and 2 months for added complexity.
On the nose, THE HORIZON offers a classic bourbon profile with sweet cornbread and vanilla. The palate is balanced with warm notes of cinnamon and oak, followed by a long finish with a slight lingering sweetness. The whiskey is approachable neat and on the rocks, enjoyable for both casual whiskey drinkers and enthusiasts alike.
Are you 21 years old, or older?