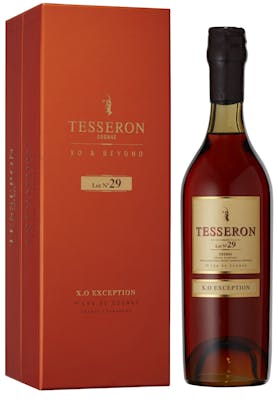 SKU: 56150
Tesseron Cognac Lot No. 29 XO Exception Cognac
---
$899.99
Save $150.00 (17%)
$749.99
---
The rare jewel of the Tesseron collection of Cognacs. A unique blend of legendary Grande Champagne, the cream of our oldest and rarest stocks, lovingly aged for at least three generations. Balancing power and finesse, Exception has a floral bouquet, allied to chocolate and mocha notes. This is complemented by that elusive, ethereal nose which is so typical of only the very best old cognac. This subtle elixir has an extraordinarily long aftertaste, and its lovely amber highlights reflect its very slow ageing - the quintessence of elegance. Tasting Notes: Lustrous topaz. Here again we have that heady, decadent aged nose, followed by layers of honey, figs, plums and exotic fruit laced with oak. Unctuous and silky this retains a wonderful freshness and vitality throughout. On the palate, supremely elegant, this combines macerated dried fruit with hints of mocha and cocoa, refreshed by floral aromatics. This is extremely well balanced and wonderfully complex with marmalade notes emerging on a persistent, stylish finish.
100% Grande Champagne. Dark amber in color, but super-bright and fresh on the fruity, floral nose, offering aromas of lily, fig, pineapple and green tobacco. In the mouth, flavors of marmalade and mango chutney are then enveloped by chocolate and hazelnut, tinged with baking spice. Finishes with a tropical not of mature rancio. (40% abv)
The NV Cognac Lot 29 is another beauty that offers incredible complexity, as well as length. More finesse-oriented, with a seamless, fine, elegant texture as well as notes of orange peel, caramelized citrus, and spice, it's slightly less powerful than the Lot 53 release yet is more nuanced.
The nut-paste, oaky scents take on a citrusy tone as the smell turns fruitier the more it aerates; lovely and compelling. The palate entry is supple, fruity sweet, and ripe; the midpalate stage highlights melded flavors of light caramel, marzipan, and nougat. Ends up oaky- sweet, lightly spiced and satiny. - P.P.
Are you 21 years old, or older?