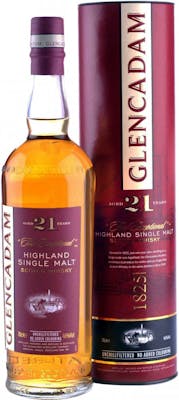 SKU: 56259
Glencadam 21 Year Old Single Malt Scotch Whisky 21 year old
---
$249.99
Save $50.00 (20%)
$199.99
---
Glencadam first opened in 1825, in the ancient city of Brechin. This was the year that the first horse-drawn omnibuses were established in London, the world's first modern railway opened, with the first public train pulled by the steam engine, Cox's Orange Pippin apples were first grown and London became the largest city in the world, over-taking Beijing. It was a little more than one year after the Excise Act of 1823 legalized distilling. Glencadam is now the only distillery in the county of Angus, an area of the Highlands region of Scotland. The first owner was a Mr. Cooper, who sold the distillery in 1827. The name Glencadam comes from the area known as "The Tenements of Caldhame". These were plots of ground given to the burghs of Brechin for food production. They were situated to the north and southeast of the Den Burn where the distillery stands. The Distillery The distillery was owned by a David Scott and his descendants from 1827- 1891, and during this period it was rented to various distillers. Over the next few decades the distillery had a succession of owners. Glencadam mothballed during both world wars. The warehouses were instead used to barrack soldiers. There is still a mark on the grass by No. 2 warehouse where their commissary was. Glencadam was bought in the 1950s by Hiram Walker, which subsequently became Allied Domeq, who closed the distillery in 2000. Glencadam Single Malt has always been premium whisky for blending, and as such was highly sought after for some of the worlds most prestigious blends. Glencadam was finally bought by Angus Dundee Distillers on 1st June 2003, an independent Scottish company. Angus Dundee restarted production immediately, and we released our first ever single malt product, Glencadam Single Malt Scotch Whisky Aged 15 Years, in December 2005. This was subsequently re-launched in November 2009 with new packaging, alongside the release of a 10 year old expression.
Tasting Notes: Colour Light Golden Nose Floral and elegant with some sweet orange citrus tones Palate Refined, gentle, floral with orange citrus and candied peel sweetness balanced by underlying peppery oak tones Finish Lingering and dignified.
This golden single malt offers aromas of ripe pear and vanilla. The palate opens with a burst of black pepper, moving into creamy honey, vanilla and baked pear flavors, finishing with peppery tingle. A dose of water pulls it all together, creating a vanilla cream pie effect.
Are you 21 years old, or older?