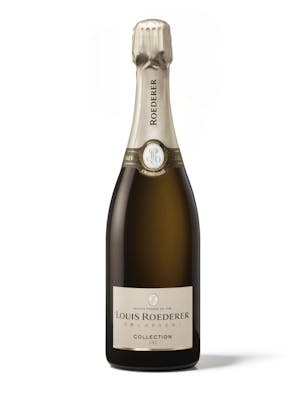 SKU: 56299
Louis Roederer Collection 242
---
---
#76 - 2021 Top 100 Wine Spectator
The Collection 242 blend is dominated by Chardonnay which was of exceptional quality in the 2017 vintage. The perfectly ripe Chardonnay grapes lend the wine its aromas of ripe, sweet fruit complemented by subtle oaky notes. The palate is rich and ripe with a luxurious texture that coats the palate, the signature of an outstanding Chardonnay. The Pinot noir and Meunier grapes from the Vallée de la Marne complete the wine's broad, luscious, smooth, and juicy character. The finish is energetic and fresh. Blend: 42% Chardonnay, 36% Pinot Noir, 22% Meunier
Robert Parker 93+ Points "Roederer's Brut Premier was created in the 1980s to prove to consumers that we could deliver consistent quality with a blend that compensated for less than perfectly ripe vintages," explains Jean-Baptiste Lecaillon. "We were blending in pursuit of maturity, of ripeness. The concept behind the Brut Collection is the opposite: we're looking for freshness—and we are embracing singularity, something we're emphasizing by enumerating each year's blend." This project has been in the making since 2012 when Lecaillon set aside 21,000 liters of wine to constitute a perpetual reserve aged in large tanks without malolactic fermentation. Sourcing has evolved too: less must is coming from cooperatives, and only vineyards cultivated without the use of herbicides inform the blend. A dedicated team oversees all this, visiting every grower three times per year. And vinification is parcel by parcel to deliver a maximum of blending components."
Aromas of cooked apple, bread dough and lemon tart follow through to a full body with round, delicious fruit and a rich, flavorful finish. Yet, it remains tight and fine with lovely, compressed bubbles. New energy and freshness. Medium-to full-bodied with layers of fruit and vivid intensity. 42% chardonnay, 36% pinot noir and 22% pinot meunier. 8 grams dosage. Four years on the less. A new-format non-vintage that designates the year of the 242nd harvest, 2017, plus reserve wine of 2009, 2011, 2013, 2014, 2015 and 2016. Drink or hold.
A bright, harmonious Champagne, layering well-cut acidity and a chalky underpinning with flavors of white cherry, crunchy pineapple, green almond and beeswax. The finely detailed mousse carries hints of saffron and spring blossom on the lingering finish. Drink now through 2024. 19,537 cases imported.
Whereas Brut Premier was typically a focused, nervy wine that, while consistently excellent, also was not always in line with the Roederer house style, the 242 tastes more like a Roederer Champagne in terms of its complexity. Incidentally, there is no Vintage, Cristal or Cristal Rosé in 2017, so all the best lots went into this bottling. Dosage is 8 grams per liter, so lower than the 9 or so that was typical for recent Brut Premier and much lower than the 12-13 that was once customary. The 242 was also bottled with a bit less sugar than the norm, which results in lower atmospheres of pressure in the bottle and silkier texture.
Softly shimmering straw gold, green tints, with a delicate filigree dancing at will around the glass. The nose is gently authoritative; spring flowers garlanding stone fruit, a hint of hawthorn maybe, then lemongrass. The palate has encyclopaedic depth, the intricacies of the Perpetual Reserve weaving their early magic; almond, sloe, gingerbread and apples; the finish has a pleasing twist of bitterness, courtesy of the small percentage of oak-aged reserve wine.
Are you 21 years old, or older?