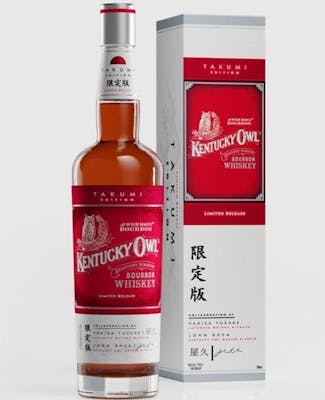 SKU: 57154
Kentucky Owl Takumi Edition Bourbon
---
$279.99
Save $100.00 (36%)
$179.99
---
In celebration of our desire to collaborate with like-minded innovative spirits, Kentucky Owl has partnered with Japanese Master Blender Yahisa Yusuke to help create our Kentucky Straight Bourbon Whiskey. This Takumi Edition brings together the traditional blending skills of selecting rare whiskey barrels and unique flavor profiles, with the expertise of our Master Blender, John Rhea, resulting in this exceptional and unique limited release.
Following last year's The St. Patrick's Edition, a collaboration with Irish Whiskey Bonder Louise McGuane, which saw 12,000 bottles sell out in eight months, the latest release takes drinkers to an entirely different part of the world, Japan. The Takumi Edition is a blend of 4-, 5-, 6-, and 13-year-old Kentucky straight bourbons selected by Master Blender John Rhea of Kentucky Owl and blended by Yusuke Yahisa of the Nagahama Distillery, himself a Master Blender too. By allowing Yahisa to work on his formulations representing the thriving Japanese Whiskey landscape, the team at Kentucky Owl hopes to marry two styles into a wholly singular product that will appeal to a broad swath of drinkers.
Are you 21 years old, or older?