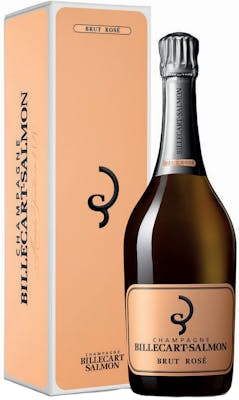 SKU: 51668
Billecart-Salmon Brut Rosé
---
$114.99
Save $25.00 (22%)
$89.99
---
The Brut Rosé is a fresh and elegant Rosé Champagne, blend of Chardonnay, Pinot Meunier and Pinot Noir vinified as red wine. Radiant color with graceful effervescence, a persistent mousse, and fine bubbles rising slowly in the glass. Subtle and fine aromas leading to an expressive red berry flavor with citrus zest. Creamy and smooth on the palate, evolving to strawberries notes and a raspberry finish. Light, balanced and precise. The best pairing for any happy occasion! Pairs greatly with fine charcuterie, sushi, grilled salmon, or a langoustine carpaccio. It will also enhance lightly sweetened red berry desserts with an acidic crunch.
A gorgeous rosé Champagne with sliced strawberries, orange peel and hints of cream and pie crust. Medium body, tight and integrated tannins and a long and flavorful finish. Tangy acidity. The texture shows a fine bead and lightness. Long and intense.
A lovely rosé in an almost vinous style, with mouthwatering acidity and a fine, lacy mousse carrying appealing flavors of ripe raspberry, white cherry fruit, star anise, mandarin orange peel and honeysuckle. Lightly chalky on the lasting finish. Enjoy with food.
Gentle red fruits rise from the glass. In the mouth it's attractively bright and youthful, with citrus and cranberry notes. The very fresh acidity and primary fruits give way to autolytic notes and cappuccino with time, followed by a long, savoury, saline finish.
The palest of rosés, this is an elegant, structured wine. Its dryness is balanced by the fine apple and red-currant fruits and the strong sense of minerality. Fragrant and lightly structured, this fine bottling is ready to drink.
(45% Chardonnay, 30% Pinot Noir and 25% Pinot Meunier; 8 g/l dosage; L206454 17741): Pale orange. High-pitched red berry, orange zest and jasmine aromas, with suave mineral and smoky lees notes adding complexity. Spicy and precise on the palate, showing very good punch to its strawberry and bitter cherry flavors. Opens up smoothly with air and picks up a bitter rhubarb quality that lingers onto the long, tightly focused finish. This bottling showed more brawny character than many past renditions of this cuvée, but with no lack of vivacity.